Doctors & Staff
Meet the experienced and friendly doctors and staff who make Westwood Eye Care & Optical the leading provider of vision care products and services in Westwood.
---
Dr. Wayne E. Zahka, OD
Dr. Zahka has earned the distinguished title of Diplomate of the American Board of Optometry.
Dr. Zahka is the Secretary of the Massachusetts Licensing Board for Optometry. He was recommended for the position by the Massachusetts Society of Optometrists and appointed by Governor Patrick in June 2010.
He is a founding member, and serves on the Board of Directors for the non-profit, the Massachusetts Vision Foundation.
Voted Massachusett's Optometrist of the Year for 2002-03, a past recipient of the Community Services Award, past President of the Massachusetts Society of Optometrists (MSO), and a 30 year member of the MSO
He is also a 30 year member of American Optometric Association, serving as a delegate to the AOA national congress,and a past member of the nominating committee.
He has served on the Advisory Board of Tufts Health Plan and serves as a member of the Executive Board at his local church.
Dr. Zahka is a graduate of Boston University, and the New England College of Optometry. He has been providing the highest quality, Optometric care for his patients since 1984.
He is a Westwood resident, and an active supporter of local sports teams,theatre, education, and many other local activities.
Additional information about the MSO and the AOA can be found at http://www.massoptom.org/ and  http://www.aoa.org/.
---
Jeffrey Bostwick, R.D.O
Jeffrey is a Registered Dispensing Optician with over nineteen years of optical experience. Jeff will assist you in choosing a frame that compliments your individual style, your facial features and skin tones. He'll then craft the eyeglasses here in our shop. When you receive your eyewear, Jeff will make certain the frames are optimally adjusted for you. He will explain the proper care of your new eyewear to ensure a comfortable and trouble free fit.
---
Joni Troyanos & Margaret Mahoney
Joni (left) and Margaret (right) are our office administrators. They are your first contact with our office. They will be happy to help you schedule an appointment for your comprehensive eye exam, contact lens evaluation, or specialty examination. To enhance your visit with us, they will also contact your insurance company to verify your insurance coverage, and determine which benefits you are entitled to prior to your visit.
---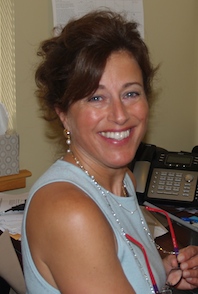 Dana Zahka
Dana is our Patient Services and Special Projects Manager. She was founder and CEO of Select, Inc., a computer networking corporation from 1987-2009. Her mission at Westwood Eye Care & Optical is to enhance the patient experience through the implementation of patient communication software and state of the art optical technology.